50 - 500 Ton Circulating Batch Type Corn Grain Dryer
Produktbeschreibung
50 - 500 Ton Circulating Batch Type Corn Grain Dryer


Overview of the corn dryer :
This dryer is mainly composed of drying section,tempering section,cooling section,etc.;it adopts mixed flow drying technology and can conduct one-time or circulated drying with the medium of clean hot air.Grain flows slowly from top to bottom along the channel between angular boxes under the influence of gravity;while the hot air comes into the dryer through the angular box,and then passes through the grain layer,flows to the surrounding air exhaust boxes,turns into exhaust gas,and eventually gets discharged from the air exhaust box..The heating up temperature of grain in the dryer is an alternating process.Thin grain layer,low fan power and low power and low power consumption result in lower cost.The hot-blast stove is composed of the furnace body,the heat exchanger and other components;it takes coal,straw,waste wood,rice husk as its fuel.The heat exchanger is made of heat resistant material,so it has high thermal efficiency and long servicelife.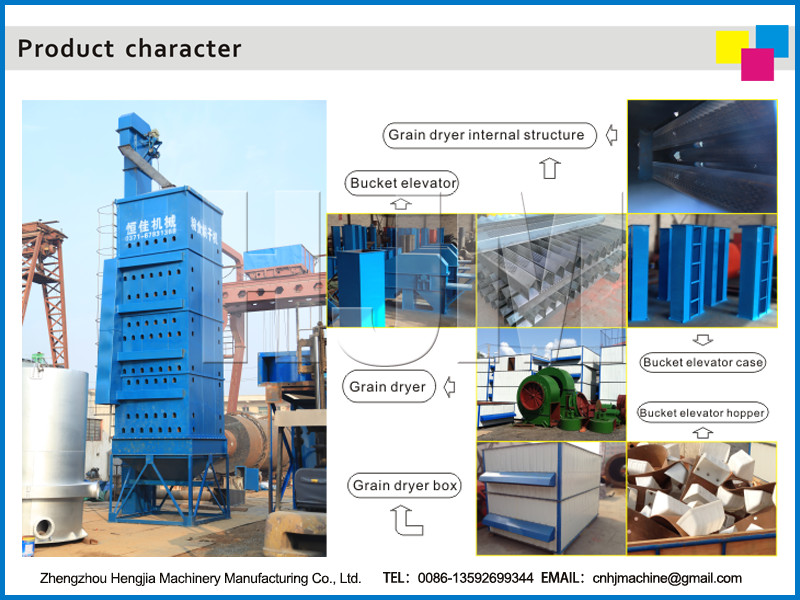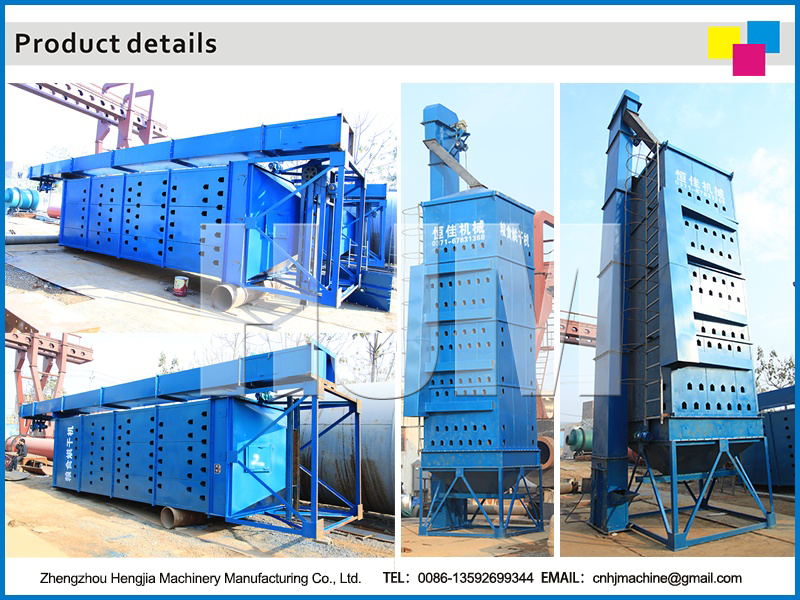 Application and features of the corn dryer :

1----This dryer is suitable for drying highly moist paddy,wheat,maize and soybean etc. It is usually used on farms, primary grain depots and for integrated farming farmers.
2----Drying evenly,quality of dried grain is maintained.
3----Burning the abandoned rice husk,firewood,straw,indirect heat extraction,clean hot air for drying material without any pollution.
4----Simple structure,smainvestment,low operation cost,easy operation and maintenance.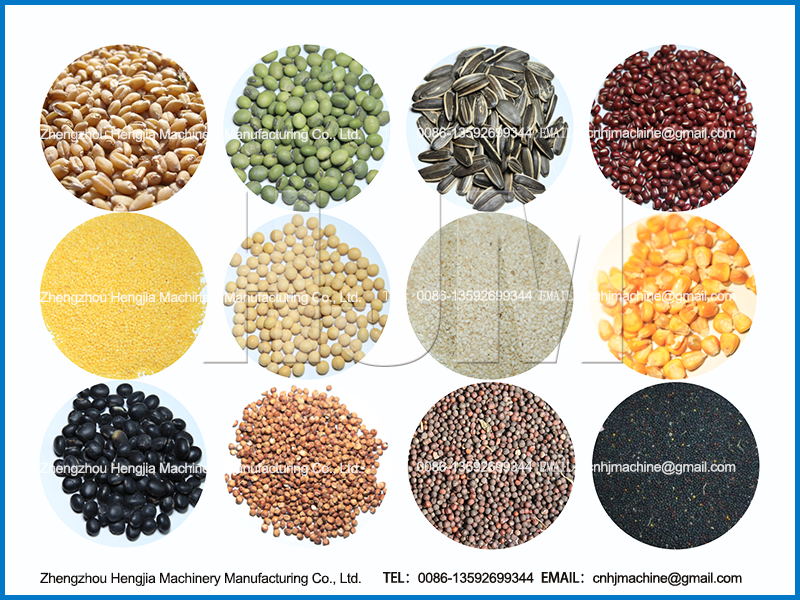 Customer site of corn dryer :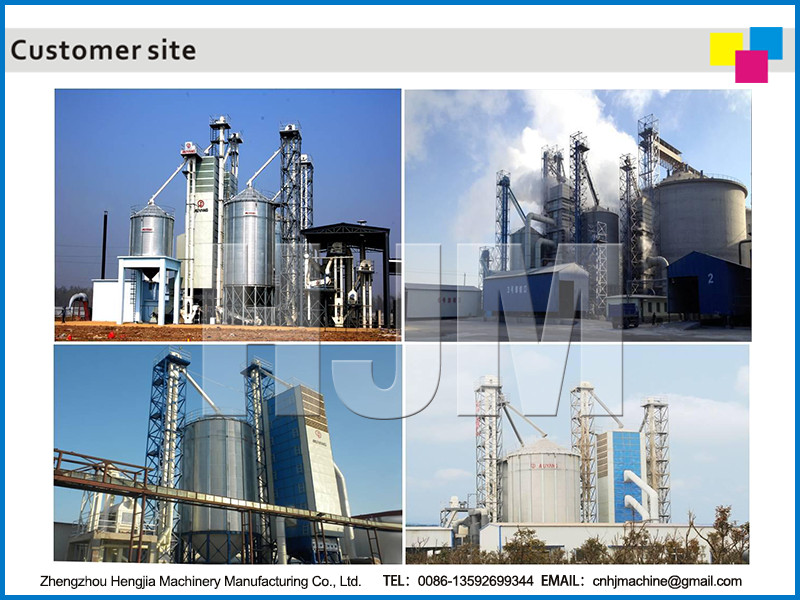 Working principle of the corn dryer:

Grain drying machine is an ideal equipment for drying grain. Processed products from the top input, through the feeding device, to ensure that the equipment always in full load condition during operation. After turning inward bottomless v-shaped flap and processing with staggered joint action of multiple rows of "V" baffle, makes possible the mix of processed products, but also as dry air in and out of the channel, the fan will be used gas into the collector, purification, most of the dry air can be recycled, so save the fuel consumption.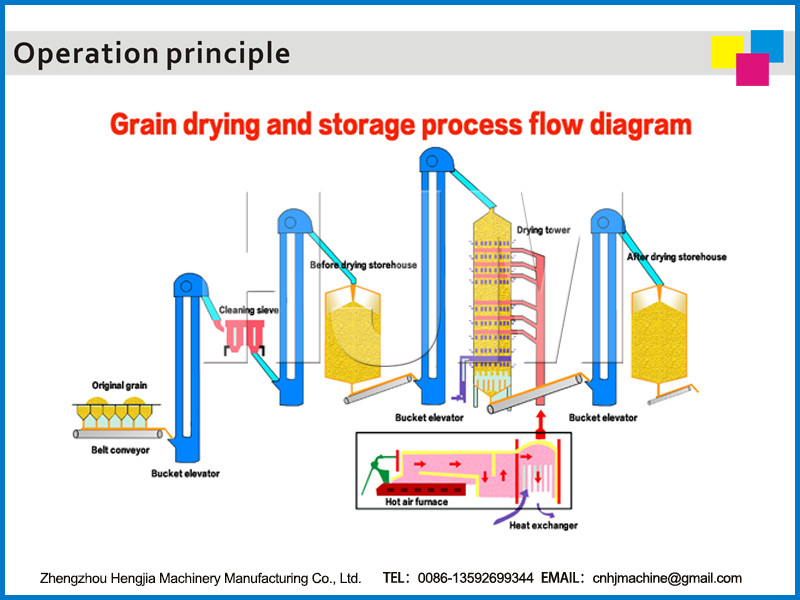 Technical parameters of the corn dryer :

Model

HJ100

HJ150

HJ200

HJ300

HJ400

HJ500

HJ600

Handling Capacity (Ton/Day)

100

150

200

300

400

500

600

Decreased Moisture (%)

2~16

Heated method

Fresh air

Hot blast Temperature (°C)

65°C~120°C

 Unevenness of drying (%)

< 2

Crush Ratio (%)

< 0.3

Heat Consumption

(KJ/kg H2O)

5450~6700

Coal Consumption (kg/h)

(standard coal)

60~230

90~345

120~460

150~575

180~690

240~1000

300~1380

Power

According to environment, condition, decreased moisture and configuration

Size of Main Machine(M)

4×3

4×3

5×3.2

5.5×3.2

5.5×4

5.5×4.5

6×6

Length of Main Machine(M)

6~12

8~15

13~17.5

14~18

14~19

15~20

16~22

Material

Wheat, paddy, corn, soy, rice, seed, etc.

Remarks

Except the above general types, we can also supply special models as your request.
Packing and delivery of corn dryer :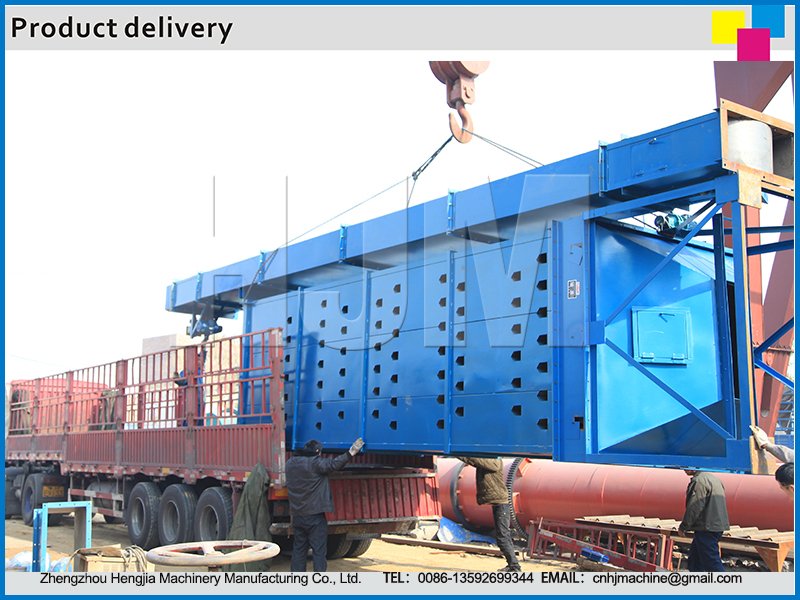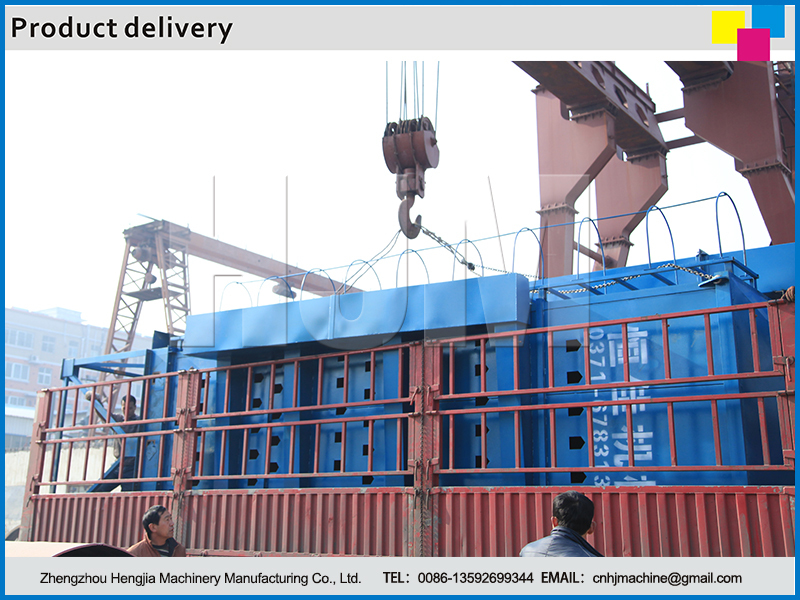 Why Choose Us
1. We are Factory (Not Dealer)
All machineries from Zhengzhou Hengjia Machinery Manufactory are made by ourselves, with lower price, good quality and assured full after service. So please buy machine from our factory.
2. Training & Service
♥ Pre-sale services: enthusiasm
We provide you with the prophase plan, process flow design and manufacture equipment according to your special demand.
 ♥ Sale services: servant
Send technicians to the jobsite for guiding the installation and adjustment, training operators and finishing the check and accept together with you.
♥ After-sale services: faithfulness
To establish long term friendship, we will regularly pay return visit to customers.
♥ In addition, we provide one-year warrantee to make sure your machine runs consistently. We always keep certain inventory level of spare parts, which means the replacements can be shipped to you right away.
3. If you are new for this business, we will help you
Many thanks for your trust; we can provide you with design scheme for complete production lines, spot inspection and operator training according to your demands and the conditions of applied spot, we can help you choose the right equipments. 
4. We'd like to recommend a suitable type for you and send you a best quotation. Some questions please inform us in your enquiry.
♥ What is kind of grain you want to be dried?
♥ What is the moisture before drying and after drying?
♥ What 's your handling capacity?
Looking forward to you kind inquiry and welcome to our factory!
Produktgruppe : Trockner Ausrüstung > Turm-Trockner