Tower type grain dryer for corn, wheat, paddy, sorghum
Produktbeschreibung
Specifications
grain dryer for sale
1Fast delivery
2Easy to install and use
3Operating convenience
4Simple structure
Tower type grain dryer for corn, wheat, paddy, sorghum

Summary of tower type grain dryer
Tower grain dryer is mainly composed of drying section, cooling section, discharging section, etc. It adopts mixed flow drying technology and can conduct one-time or circulated drying with the medium of clean hot air. Grain flows slowly from top to bottom along the channel between angular boxes under the influence of gravity, while the hot air comes into the dryer through the angular box, and then passes through the grain layer, flows to the surrounding air exhaust boxes, turns into exhaust gas, and eventually gets discharged from the air exhaust box. The heating up temperature of grain in the dryer is an alternating process. Thin grain layer, low fan power and low power consumption result in lower cost. The hot-blast stove is composed of the furnace body, the heat exchanger and other components. It takes coal, straw, waste wood, rice husk as its fuel. The heat exchanger is made of heat resistant material, so it has high thermal efficiency and long service life.
Main feature of the agriculture equipment grain dryer

1).Automatic control of raw grains input  
2).Hot air stove of accurately controlling for automatic 
3).The control of hot air and temperature for different section
4).With temperature-based automatic moisture control
5).The control of the air volume for output
6).Automatically adjusts dryer unloading speed to maintain grain discharge moisture
7).Includes built-in control diagnostic,auto shutdown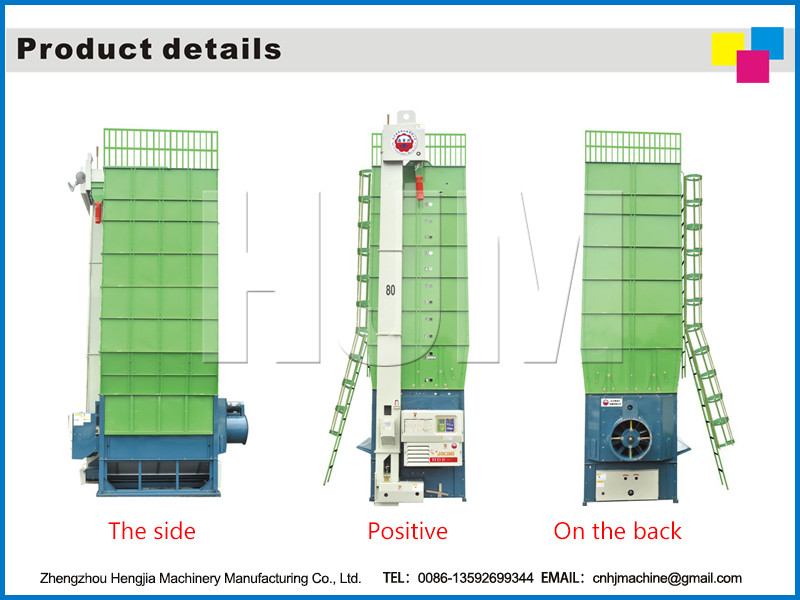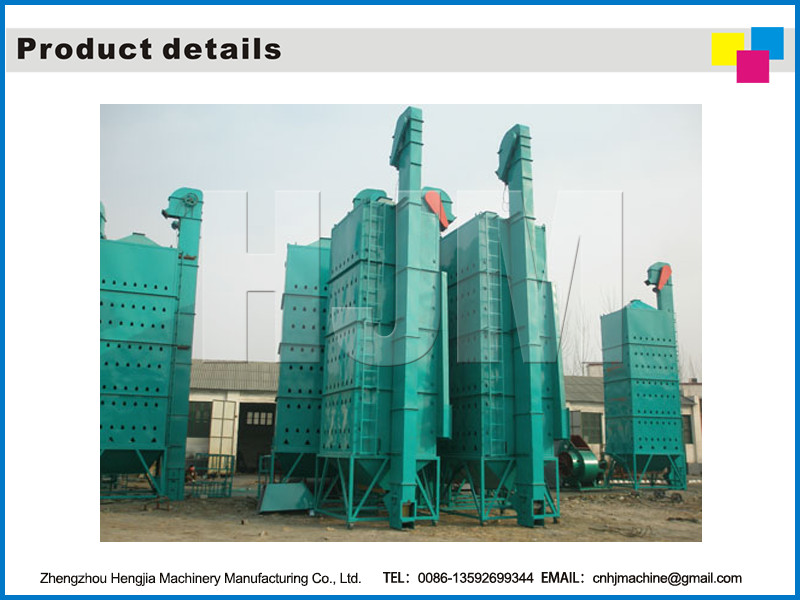 Working principle of the agriculture equipment grain dryer:

Hot blast stove heat source to do fuels such as coal, straw, wood or rice husk.Chamber of a stove or furnace reaches a certain temperature when using, start the hot air switch, hot air drying tower to the induced draft fan.
Will start the hoisting machine switch, wet food sent to the tower, food from the top of the tower by the flow, since the hot air through the grain layer, heat exchange with food grains, food heating, evaporation, water contained by the skylight exhaust eduction.
After drying period into the cooling section of tuen food, after cooling down to the right temperature, starting grain switch, from food to screw conveyor, according to actual condition, can be adjusted by the frequency of the fast food.After meet the requirements of drying food by screw conveyor, did not meet the requirements of drying food again into the bucket elevator to circulate drying tower, until meet the requirements.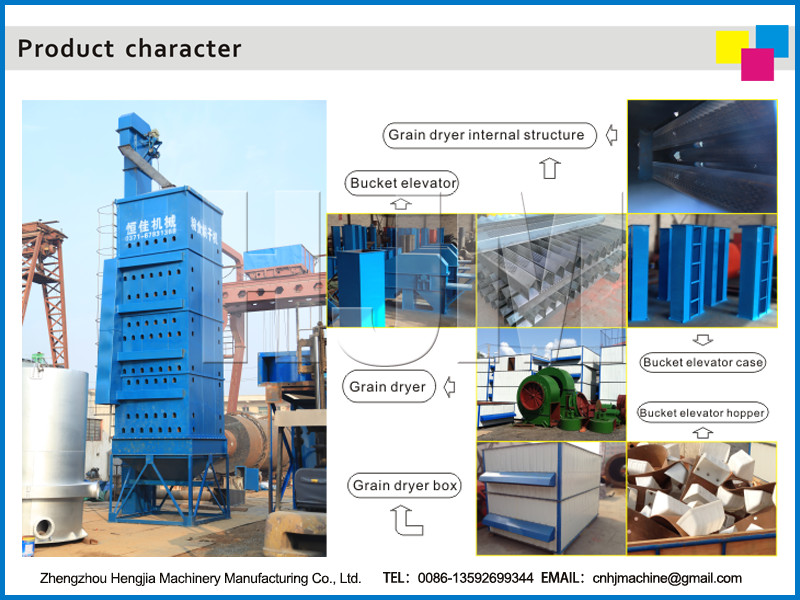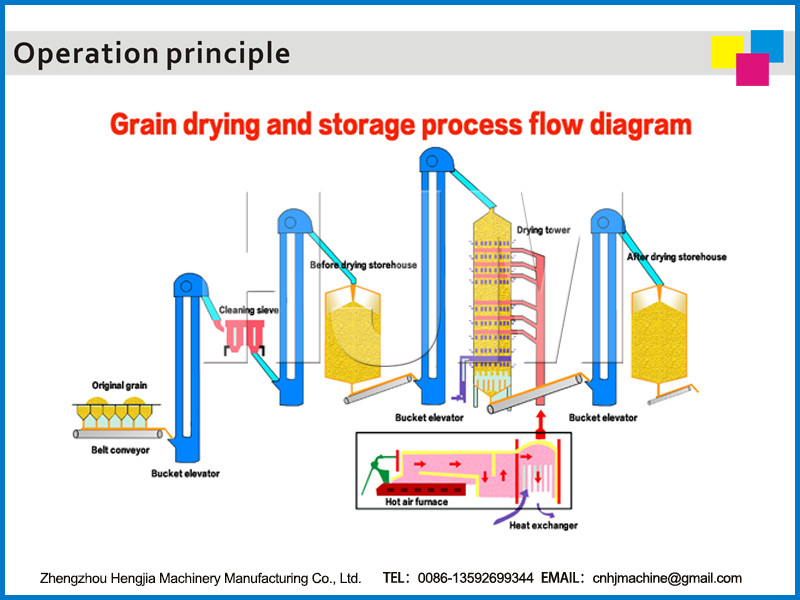 Technical parameters of the agriculture equipment grain dryer

1.Big model grain dyer parameter
| | |
| --- | --- |
| Drying capacity(ton/24h) | 100T/200T/300T |
| Drying rate (%) | 2-16 (can be more according to need) |
| Heating medium | Fresh air |
| Temperature of hot air (°C) | 65-120 |
| Grain drying temperature(°C) | 40-50 |
| Uneven of drying (%) | <  2 |
| Breakage of drying (%) | <  0.3 |
| Heat consumption KJ/kg H2O) | 5450-6700 |
| Coal consumption(coal kg/h) | 30-40/40-60/100-120 |
| Reference Installation power | 69.0KW/78.2KW/103.7KW |
| Size(M) | 3.2*2.2/4.2*2.2/6.2*2.2 |
| Reference Height(M) | 18 |
2. Small fixed grain dryer
| | | | | |
| --- | --- | --- | --- | --- |
| Model | HJX30 | HJX50 | HJX100 | HJX150 |
| Capacity(t/d) | 30 | 50 | 100 | 150 |
| Heat rate(MW) | 0.15-3.5 | 0.25-0.6 | 0.5-1.2 | 0.75-1.8 |
| Size (M) | 4x2.5 | 4x2.5 | 4x2.5 | 4x2.5 |
| Height(M) | 5-7 | 6-8 | 7-12 | 9-15 |
| Range of moisture | 3-10% | 3-10% | 3-10% | 3-10% |
| Heating medium | clean air | clean air | clean air | clean air |
3. Small Mobile Portable grain dryer
| | |
| --- | --- |
| Model | HJM-10 |
| Capacity | 1-4T/H |
| Load capacity | 11.5M3 |
| Range of moisture | 1.5-2%(CORN),0.6-1%(PADDY) |
| Hot air temperature | 50-135 centigrade |
| Unevenness of drying | <1% |
| Fuel | coal, wood, sawdust, husk |
| Stove power | 0.35MW |
| Total power | 17.15kw |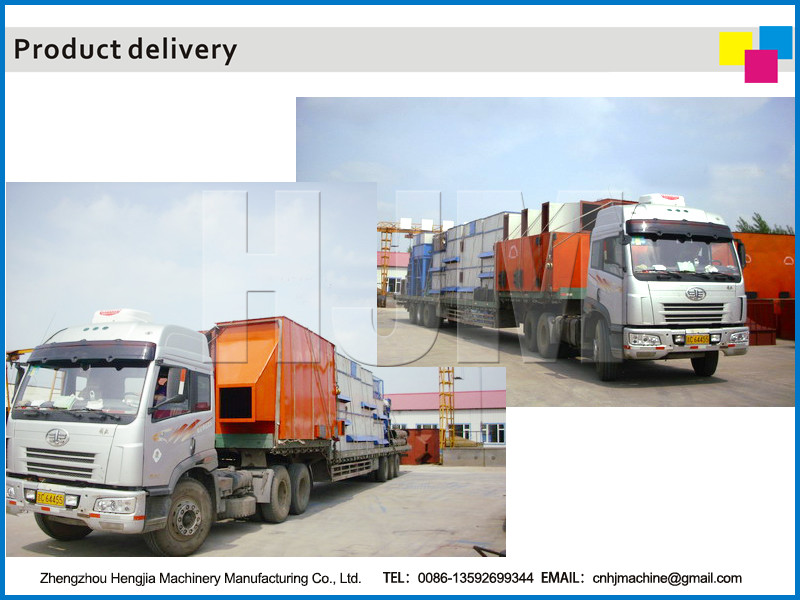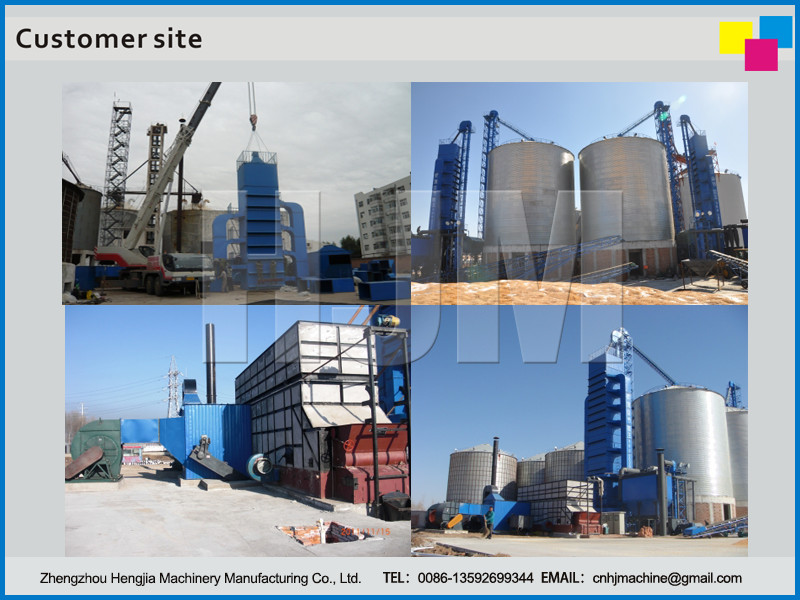 Certification of Zhengzhou Hengjia Machinery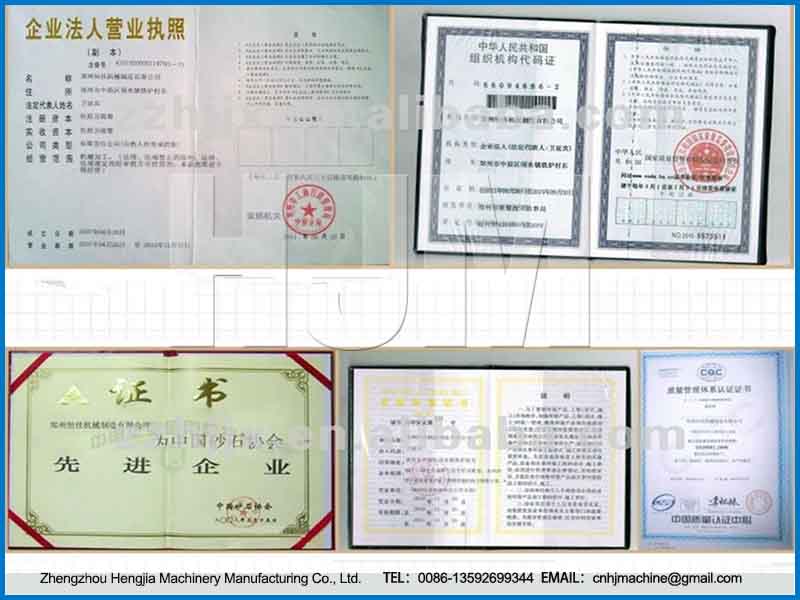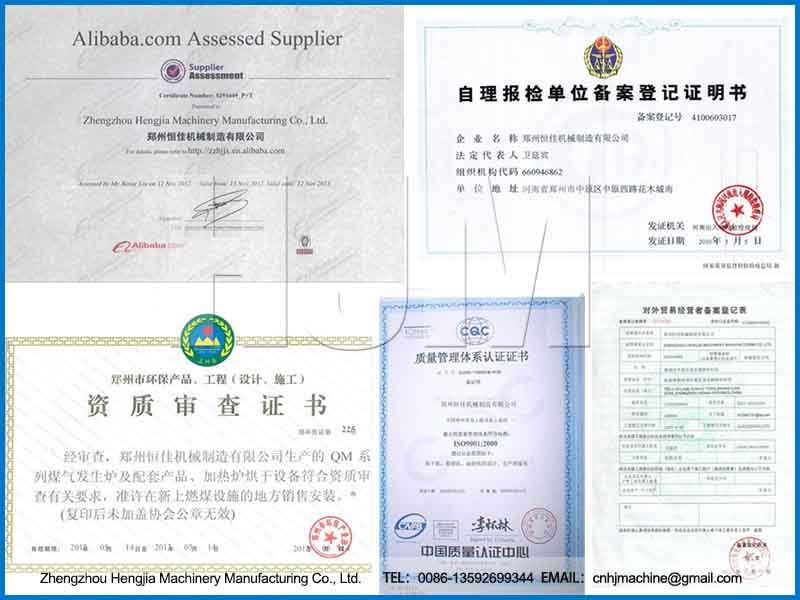 Why Choose Us
1. We are Factory (Not Dealer)
All machineries from Zhengzhou Hengjia Machinery Manufactory are made by ourselves, with lower price, good quality and assured full after service. So please buy machine from our factory.
2. Training & Service
♥ Pre-sale services: enthusiasm
 We provide you with the prophase plan, process flow design and manufacture equipment according to your special demand.
 ♥ Sale services: servant
Send technicians to the jobsite for guiding the installation and adjustment, training operators and finishing the check and accept together with you.
♥ After-sale services: faithfulness
To establish long term friendship, we will regularly pay return visit to customers.
♥ In addition, we provide one-year warrantee to make sure your machine runs consistently. We always keep certain inventory level of spare parts, which means the replacements can be shipped to you right away.
3. If you are new for this business, we will help you
Many thanks for your trust; we can provide you with design scheme for complete production lines, spot inspection and operator training according to your demands and the conditions of applied spot, we can help you choose the right equipments. 
4. We'd like to recommend a suitable type for you and send you a best quotation. Some questions please inform us in your enquiry.
♥ What is kind of grain you want to be dried?
♥ What is the original moisture before drying and your request moisture after drying?
♥ How big handling capacity or output you need?
Welcome to our factory!
Produktgruppe : Trockner Ausrüstung > Turm-Trockner